Our Pools Mainpage: www.suprnova.cc. Our Twitter: twitter.com/SuprnovaPools Be sure to follow us for updates and news !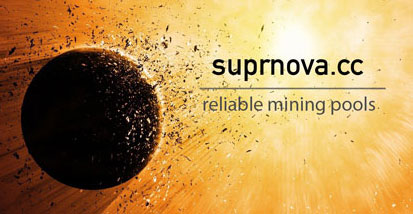 Suprnova's Verge XVG Myriad-Groestl Pool // Algo: myr-groestl // LIVE !
stratum+tcp://xvg-mg.suprnova.cc:7722 Nicehash: 7723
For security reasons this pool uses a new, separate database, please re-register and setup new workers even if you have a suprnova account on a different pool already.
Other XVG Pools:
https://xvg-x17.suprnova.cc
https://xvg-lyra.suprnova.cc
There was a severe attack on VERGE during the last hours, please read:.
Official Statement is here
Pool open again
Pool Donors
| Name | % | XVGMG Total |
| --- | --- | --- |
| FenixGnom | 1 | 9,114.81 |
| tantara | 1 | 6,195.55 |
| PAVLENTIN | 1 | 5,353.45 |
| sintezgbl | 1 | 4,241.50 |
| khk8422 | 5 | 3,732.19 |
| kholdings | 1 | 3,217.08 |
| thaibinh1212 | 0 | 2,260.06 |
| HashOmega | 1 | 2,218.54 |
| Krypto777 | 1 | 2,159.89 |
| hazzim | 1 | 2,088.23 |
| vitalyfil | 1.5 | 1,773.04 |
| Suprnova2018PuraVida | 1 | 1,720.54 |
| clubska | 0 | 1,663.65 |
| asadkyousuf | 1 | 1,631.44 |
| buihoangnhat | 1 | 1,342.52 |
| mpxdev | 1 | 1,264.90 |
| komarkolya | 1 | 1,063.92 |
| Advokat89 | 1 | 958.60 |
| 2020363 | 1 | 949.81 |
| Longvinr | 1 | 901.62 |
| basamo100 | 1 | 855.65 |
| digitalblockfx | 1 | 802.86 |
| glodfarm | 0 | 700.12 |
| manager33 | 1 | 676.57 |
| andriy88f1 | 1 | 645.43 |
| ahmet29 | 1 | 627.34 |
| anonymous | 1 | 440.56 |
| cryptogen777 | 1 | 438.66 |
| SSSZ | 1 | 427.40 |
| anonymous | 1 | 419.45 |
| babich | 1 | 390.80 |
| giangkhue17 | 1 | 369.40 |
| deejayali58 | 2 | 306.34 |
| anonymous | 1 | 299.76 |
| anonymous | 1 | 281.67 |
| ZhuravlovAV | 1.5 | 274.06 |
| anonymous | 0 | 239.30 |
| mediamake | 1 | 234.64 |
| fintech | 1 | 228.94 |
| gunsn | 50 | 224.35 |
| Wizardvv | 1 | 201.00 |
| anonymous | 1 | 192.74 |
| Raid1995 | 0 | 192.60 |
| horsehgw | 1 | 186.43 |
| levantu0423 | 1 | 173.22 |
| okluxen | 0 | 159.04 |
| karapetyan-karen | 1 | 149.64 |
| zerokyo | 0 | 139.03 |
| Meanboy | 1 | 123.93 |
| Frank | 1 | 115.37 |
| texashedge6969 | 1 | 114.23 |
| delawa | 1 | 112.14 |
| teletub | 1 | 99.83 |
| aqwatan | 1 | 98.27 |
| dyfking | 0 | 82.32 |
| arda2ber | 0 | 82.04 |
| guru-1978 | 1 | 76.28 |
| nongdan09n1 | 1 | 73.03 |
| funny0319 | 0 | 71.49 |
| minertech | 1 | 68.27 |
| A1 | 1 | 67.39 |
| anonymous | 1 | 66.56 |
| haybinyekzan | 0 | 64.43 |
| hkmining | 1 | 64.15 |
| almaz56 | 1 | 63.83 |
| gridan | 1 | 63.45 |
| aak | 1 | 57.66 |
| turkeyminermarket | 2 | 56.45 |
| anonymous | 0 | 49.58 |
| svami | 0 | 46.66 |
| HighlyVariable | 1 | 46.14 |
| Cash | 0 | 44.48 |
| lyusa | 20 | 44.05 |
| miner7895 | 1 | 32.83 |
| ngvanhao | 1 | 32.57 |
| marcomirra | 1 | 32.08 |
| anonymous | 1 | 28.22 |
| temoha88 | 0 | 25.64 |
| anonymous | 0 | 25.38 |
| onur08 | 0 | 22.88 |
| HeidBen | 0 | 22.15 |
| anonymous | 1 | 21.89 |
| anonymous | 0 | 21.27 |
| mcaxi | 0 | 16.23 |
| mysgrupo2018 | 1 | 12.56 |
| nguyentheanh7777 | 1 | 12.08 |
| eMiner49er | 0 | 11.48 |
| zpc197835 | 1 | 11.08 |
| anonymous | 0 | 10.42 |
| SVERGE | 0 | 10.23 |
| Jrets | 1 | 10.07 |
| myxvg | 1 | 8.65 |
| BlackDiamond | 0 | 7.56 |
| soundriver | 0 | 5.83 |
| IGROK699 | 0 | 5.63 |
| anonymous | 1 | 5.26 |
| anonymous | 0 | 5.01 |
| GluxChris | 1 | 4.92 |
| ltnhan | 0 | 3.61 |
| pilot_375 | 0 | 2.92 |
| anonymous | 1 | 2.09 |
| anonymous | 0 | 1.92 |
| alastar13rus | 0 | 1.67 |
| anonymous | 1 | 1.55 |
| Davidzpce | 1 | 1.34 |
| cryptominer71 | 1 | 1.08 |
| thongdt09 | 1 | 0.98 |
| tn4574 | 1 | 0.63 |
| bemco | 1 | 0.48 |
| jeka777 | 1 | 0.46 |
| Schilling2019 | 0 | 0.34 |
| gsgx123 | 1 | 0.32 |
| anonymous | 0 | 0.23 |
| OrangeLock | 0 | 0.22 |
| rizmen77vxg | 1 | 0.21 |
| Phoenix78 | 0 | 0.20 |
| RoninAleksandar | 2 | 0.17 |
| Gonzal01 | 1 | 0.12 |
| Chlud | 1 | 0.11 |
| Biglory | 0 | 0.10 |
| guts607 | 1 | 0.08 |
| 1986przemasrr1986 | 0 | 0.07 |
| aaggrr | 1 | 0.06 |
| SeryilVerge | 0 | 0.06 |
| Tyler86 | 0 | 0.05 |
| uaenru | 1 | 0.04 |
| angelus81 | 1 | 0.04 |
| chrondrac17 | 1 | 0.03 |
| fireburn | 1 | 0.03 |
| anonymous | 1 | 0.03 |
| sergvip | 1 | 0.02 |
| anonymous | 0 | 0.02 |
| Mine2mine | 1 | 0.02 |
| tonimiriad7 | 1 | 0.02 |
| kluminati | 1 | 0.02 |
| bulinin | 2 | 0.02 |
| Taken-you | 0 | 0.01 |
| Yann02 | 1 | 0.01 |
| Sniper87 | 1 | 0.01 |
| Kobalt | 1 | 0.01 |
| jibiki | 1 | 0.01 |
| anonymous | 0 | 0.01 |
| fish1040 | 0 | 0.01 |
| andrejsu8 | 1 | 0.01 |
| ReaganR | 0 | 0.01 |
| anonymous | 2 | 0.01 |
| yaptienloon | 0 | 0.01 |
| stubborntavros | 1 | 0.01 |
| anonymous | 1 | 0.01 |
| faith7 | 0 | 0.00 |
| gerofyus88 | 1 | 0.00 |
| stefansandhas | 1 | 0.00 |
| anonymous | 1 | 0.00 |
| bardman | 1 | 0.00 |
| drex | 1 | 0.00 |
| anonymous | 1 | 0.00 |
| wesley9ziicka | 1 | 0.00 |
| anonymous | 1 | 0.00 |
| dbyellow | 1 | 0.00 |
| Shiriu | 1 | 0.00 |
| anonymous | 1 | 0.00 |
| xenekus | 0 | 0.00 |
| Passenger | 1 | 0.00 |
| Vasko32 | 0 | 0.00 |
| broeckchen | 1 | 0.00 |
| Alexarz | 1 | 0.00 |
| SavageS | 1 | 0.00 |
| Rogis78 | 1 | 0.00 |
| SpBigguN | 2.05 | 0.00 |
| indoorrick | 1 | 0.00 |
| Fox_KZ | 1 | 0.00 |
| blake410 | 1 | 0.00 |
| cr69 | 1 | 0.00 |
| phatass | 1 | 0.00 |
| Olimarkhausen | 1 | 0.00 |
| Orix84 | 1 | 0.00 |
| tpa3674 | 1 | 0.00 |
| himic5 | 1 | 0.00 |
| sk1for | 1 | 0.00 |
| AlexandrKim | 0 | 0.00 |
| supercoinprofits | 1 | 0.00 |
| stevenchung213 | 1 | 0.00 |
| Vetal | 0 | 0.00 |
| lgwood01 | 1 | 0.00 |
| Feuern_D | 1 | 0.00 |
| ukl2808 | 1 | 0.00 |
| anonymous | 1 | 0.00 |
| blessmagic | 1 | 0.00 |
| Valentino777 | 1 | 0.00 |
| savick1313 | 1 | 0.00 |
| agafda | 0 | 0.00 |
| valdis3 | 0 | 0.00 |
| cdamodify | 1 | 0.00 |
| fybyfyby | 0 | 0.00 |
| zolw | 1 | 0.00 |
| anonymous | 1 | 0.00 |
| Prookie | 1 | 0.00 |
| Stormbold | 1 | 0.00 |
| venus55511 | 0 | 0.00 |
| Tjolk | 1 | 0.00 |
| alexander | 1 | 0.00 |